You are viewing this site on a small screen or mobile device. Viewing on a larger screen is recommended for best navigation.
City Plan 2040 | PC Draft
This comprehensive plan will provide a broad vision for the future of the community with recommendations for implementation over the next 20 years. Following an extensive public engagement process, Roanoke's comprehensive plan project has culminated in this City Plan 2040: Planning Commission Draft. The Planning Commission will hold a public hearing on this version and recommend the plan to City Council for final adoption. The Planning Commission and City Council may make changes to the plan up until City Council formally adopts the plan.
As you explore the themes of the plan, you'll discover the most important content:  the policies listed under each priority. These policies are intended to guide decision making and future investment in the City over the next 20 years.
We anticipate that the Planning Commission will hold its public hearing on the plan in November or December and make a recommendation to City Council soon after. 
To receive updates on this process and other civic alerts, click here.
Tip: Click highlighted text to reveal definitions or link to source information. 
Vision
City Plan 2040 is a comprehensive plan that will guide investment and decision-making in Roanoke over the next 20 years. The plan recommends policies and actions that work together to achieve the following vision.
In 2040, Roanoke will be:
A city that understands its natural assets and prioritizes sustainable innovation.
A city that ensures the health and safety of every community.
A city that considers equity in each of its policies and provides opportunity for all, regardless of background.
A city that interweaves design, services, and amenities to provide high livability.
A city that promotes sustainable growth through targeted development of industry, business, and workforce.
A city that collaborates with its neighbors to improve regional quality of life.
Themes
City Plan 2040 is guided by six themes drawn from the American Planning Association's (APA) Best Practices for Comprehensive Plans.The APA identified six principles necessary to ensure a sustainable community. This plan extends those principles into themes that target pressing community concerns, while anticipating Roanoke's future needs. These themes will ensure a holistic planning approach that addresses environmental, social, and economic well-being. The following six themes will inform the elements of the plan.
Interwoven Equity
Healthy Community
Harmony with Nature
Livable Built Environment
Responsible Regionalism
Resilient Economy
Elements
The elements of City Plan 2040 consist of priorities, policies, and actions. The plan's priorities are the most prominent areas of concern identified by the community. The plan's policies create a decision-making guide to address each priority. The plan's actions are specific steps needed to implement each policy and achieve the long-term vision of City Plan 2040.

Population
Roanoke's population has remained relatively stable over the past 60 years.  It hasn't fluctuated more than 10 percent above or below an average of 96,747 during those decades.
Much of Roanoke's post WWII population gains were the result of annexation of adjacent growth areas. City annexations ended in the mid-1970s when a statewide moratorium was enacted. Roanoke' population numbers began to decline, falling from a peak just over 105,000 and bottoming out around 92,000. It appeared people might be fleeing the city, but the number of housing units continued to increase; 14,000 net new housing units were created between 1970 and 2010. What was actually happening was that households were getting much smaller. A massive drop in housing density was occurring as the household sizes fell from 2.7 people per household to just 2.0.
Roanoke's Population and Housing Units
With the increasing attraction of urban living, decades of population decline have ended and Roanoke is seeing modest population increases.  According to the University of Virginia's Weldon Cooper Center for Public Service, Roanoke City's population is estimated to have just surpassed 100,000 in 2019 and is expected to continue to increase to more than 105,000 in 2040. Roanoke's population has been growing at a rate of 6.5% since 2009, a rate that is lower than Virginia's (7.6%) but higher than the national growth rate (5.6%).
Median age for Roanoke is 38.1 years, slightly higher than that of Virginia and the United States but no so high as to cause concern. A high median age can indicate in-migration of seniors or outmigration of young people. Roanoke's age distribution creates bell-shaped curve, which indicates a normal age structure. 
Looking at age brackets over time, one can see changes each year. Again, most of the profile for Roanoke is stable with the exception of the 64-74 bracket which show increases as the Baby Boomers's cohort moves through. Also notable is the upward trend in the 5-14 age bracket and the downward trend of the 15-24 bracket. However, both changes are relatively slight.
Population by Race
Roanoke's population is predominantly white (64%) and African American (29%). While still a relatively small population in absolute numbers, the Hispanic population is increasing in terms of growth rates. Considering that People of Color make up over a third of our population, an understanding of our  racial and ethnic composition is important to ideas about interwoven equity and inclusion.
Household Size
The average household size for both owner-occupied and renter-occupied Roanoke residents is 2.28 which has increased since 2010.  The majority of households have two or fewer people. Single person households account for 37.1% of households and two-person households account for 32.3% of households.
Household Income and Affordability
Roanoke's median household income of $53,000 is considerably lower than that of Virginia ($90,000) and the United States ($78,000). Housing costs are also considerably lower: the median home value is $133,000 and the median rent is $748 while the median value for Virginia is $248,000 and median rent is $1,135.
Discussions about affordable housing often lead to the question of 'Affordable for whom?' Regional variation in incomes and housing costs can be accounted for when determining affordability by assessing how many and to what extent households are cost burdened by their housing expenses. Cost burdened is defined as spending more than 30% of household income on housing.
Despite Roanoke's very low housing costs relative to Virginia and the US, we still have a considerable issue with households being cost burdened. The map shows the percentage of households that are cost burdened in each census tract. Darker colors indicate more households are cost burdened. In each year since 2008, more than a third of Roanoke's households have been cost burdened by monthly mortgage payments or rent. For more details on measuring housing affordability, check out Housing Forward Virginia's Sourcebook.
Commuting
About 47,000 people commute into Roanoke every day for work and the overwhelming majority use cars as their mode of transportation. Less than ten percent use a different mode of transportation such as biking, walking, or transit. The mean travel time for inbound commuters is 20 minutes, which is lower than that of Virginia at 28 minutes and the United States at 26 minutes.
Upward Mobility
Upward mobility is a persons' ability to move up in economic status regardless of the economic status they were born into. Cities are beginning to analyze the factors that affect upward mobility as a strategy to address poverty. Segregation by income and race is an important factor in determining a cities degree of upward mobility. The map below shows the median household income in 2016 by census tract. Lower incomes, represented by lighter shades, are concentrated in one area of the city.
The Opportunity Atlas, a collaboration of researchers from the Census Bureau, Harvard, and Brown,  enables anyone to explore the details of economic mobility in Roanoke (and beyond).
The map below shows the concentration of white and black populations by census tract. Comparing these maps allows us to see the segregation by income and race for Roanoke.
Studies have shown that two parent households are also an important factor when determining upward mobility. The map below shows the share of single parent households by census tract. The same areas that show lower incomes also have the largest share of single parent households. Upward mobility has been an issue that has been identified by various groups in Roanoke. It is important that issues such as upward mobility are recognized and addressed as the city plans for the next twenty years.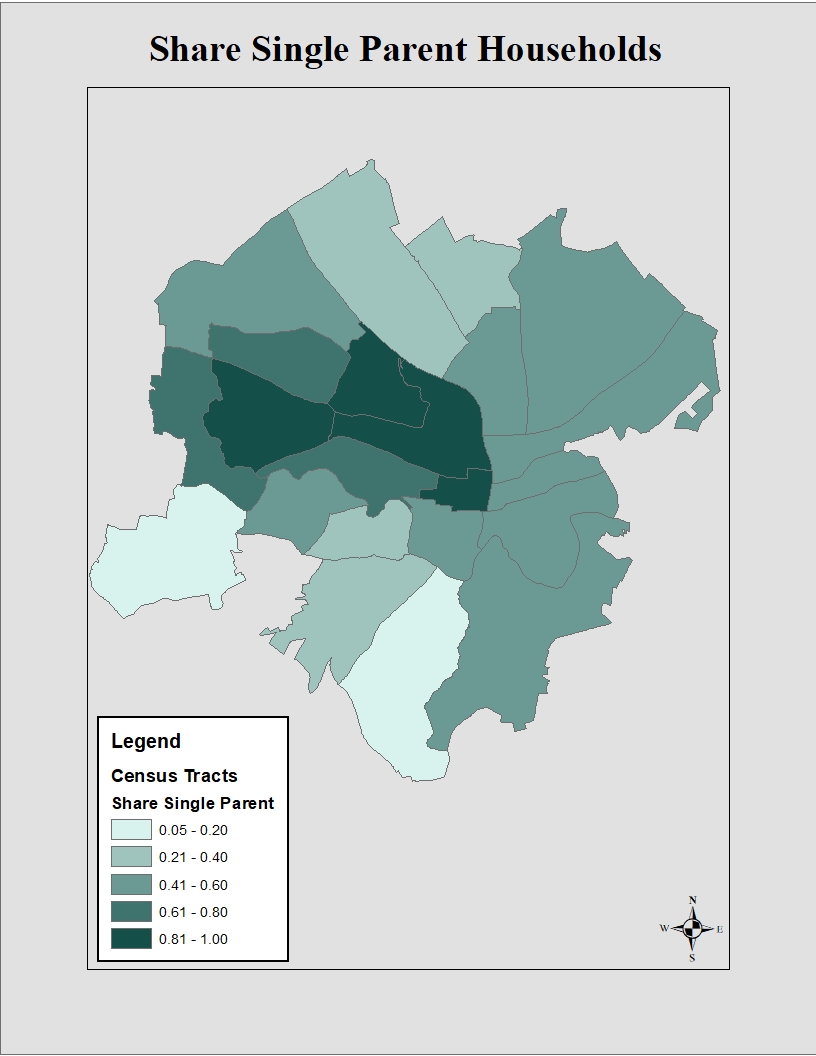 All information: U.S. Census Bureau, ACS 5 year estimate, 2016, Factfinder.census.gov
The most important step in any planning process involves collaborating with members of the community. Without listening and gaining an understanding of community needs, visions and values, it is impossible to develop a meaningful plan.
Authentic participation requires not only meaningful involvement with citizens throughout the planning process, but the empowerment of citizens to become driving forces within their own communities.  To "ensure that the planning process actively involves all segments of the community in analyzing issues, generating vision, developing plans, and monitoring outcomes", the American Planning Association identifies seven actions in their Best Practices for Comprehensive Plans. These include:
Engage stakeholders at all stages of the planning process.
Seek diverse participation in the planning process.
Promote leadership development in disadvantaged communities through the planning process.
Develop alternative scenarios of the future.
Provide ongoing and understandable information for all participants.
Use a variety of communications channels to inform and involve the community.
Continue to engage the public after the comprehensive plan is adopted.
To achieve the seven recommended actions, citizens and stakeholders were engaged throughout plan development. Varying outreach methods were used to contact all communities within Roanoke in an effort to reach diverse participants. Planning staff relied on those already engaged to act as representatives and recruit others from their community into the planning process. Specific meetings were held to address equity and hard-to-reach areas. Updated information was continually provided in the form of reports, speakers, and events throughout the creation of City Plan 2040 to help residents create their vision for the City's future.
Into the Future
Authentic participation will continually be an essential element in the planning process. City planners cannot plan for the community without knowing what the community wants and needs. To improve engagement and empower citizens, City Plan 2040 recommends several measures to create new, community represented commissions and groups to ensure equity and public oversight in future decision-making. Additionally, the Plan will be revisited every five years by planners and citizens in order to ensure accountability and track progress.
Several plans are recommended as part of City Plan 2040 with a focus on equity and integration. These plans, along with specialized Neighborhood Plans, will accompany and expand on the goals of the comprehensive plan. Each of these plans will involve a vigorous public component, relying on community leaders and organizations to achieve maximum public participation.
In order to build capacity for the public to participate in planning and other civic processes, the City is working to increase educational opportunities. Courses like Roanoke's Leadership College, Planning Academy, and Green Academy aim to provide citizens with the tools and knowledge to navigate public processes and use them for community empowerment.
City Plan 2040 is guided by six themes drawn from the American Planning Association's (APA) Best Practices for Comprehensive Plans.  The APA identified six principles necessary to ensure a sustainable community. This plan extends those principles into themes that target pressing community concerns, while anticipating Roanoke's future needs. These themes will ensure a holistic planning approach that addresses environmental, social, and economic well-being.
Each theme consists of priorities, policies, and actions. The plan's priorities are the most prominent areas of concern identified by the community. The plan's policies create a decision-making guide to address each priority. The plan's actions are specific steps needed to implement each policy and achieve the long-term vision of City Plan 2040.
City Plan 2040 has developed policies and actions to achieve a shared vision built around six themes recognized by the American Planning as necessary to ensure a sustainable community. The plan also evaluated the history of land use, transportation, and urban design and their effects on the patterns of development and existing land uses. In reviewing these elements of city design, additional policies have been created to help guide future decision making and investment. City Plan 2040 recognizes the need to be intentional about the design and development of the city to be successful in building a sustainable community and achieving the community priorities established in the plan.
Nearly 100 future land use categories, some very similar to one another, have been identified in the various neighborhood and area plans that exist at the time City Plan 2040 was created. The intent of this high level future land use plan is to consolidate the various future land use categories established in the neighborhood and area plans into a broad set of future land use categories to be consistently used in this plan and in the development of future neighborhood and area plans.
Each neighborhood or area of the city is unique with its own development patterns and needs. These neighborhood and area plans will provide more specific detail on how these broad categories apply within those areas.
The future land use plan is typically implemented through the zoning districts and zoning map established within the city's zoning ordinance. No immediate changes to the city's zoning map is proposed as part of this broad future land use plan. As neighborhood and area plans are developed it is expected that strategic zoning changes could be made to implement those plans. Other zoning ordinance changes may be made to address needs identified in special topic plans, such as housing studies, or economic development plans, or other observed development trends or community needs that need to be addressed.
| Land Use Category | Description |
| --- | --- |
| Natural Areas, Open Space, Recreation | Identified park and recreation lands, passive open spaces, significant natural and scenic features, and agricultural lands that are expected to remain in a generally undeveloped state. Neighborhood and area plans, as well as special topic plans, further delineate these areas and how these areas are expected to be managed over time. |
| General Residential | Residential areas with predominantly single family residences. May include a range of middle housing options including accessory apartments, two-family dwellings (duplexes) and small scale multi-family dwellings (townhouses, triplexes, quadraplexes) as identified in specific neighborhood or area plans. |
| Mixed Residential | Residential area with a mix of single-family and middle housing options (two-family, townhouse, and multifamily dwellings). Multifamily dwellings will range from small properties (triplexes) to moderately sized courtyard apartments, or similar properties with 10 – 20 units. Neighborhood and area plans will provide additional guidance on the appropriate housing mix. |
| Mixed Use | Mix of residential uses, office uses, support services and a limited range of other complementary uses. These areas have buildings with a general residential scale and relatively low intensity of operation. |
| Neighborhood Commercial | A concentrated area of neighborhood-scaled retail, office, and service uses, in clearly defined, compact areas in close proximity to residential neighborhoods. Buildings in neighborhood centers have generally small footprints and may have multiple stories, multiple tenants and multiple uses. Residential apartments and middle housing forms are appropriate in neighborhood centers. A development pattern that consists of ground floor commercial uses with offices and residential uses on the upper floor levels is ideal. Buildings should cover the bulk of lots (particularly frontages) to create a dense, pedestrian friendly environment. |
| Institutional/Community | Areas identified for large-scale institutional uses such as schools and educational facilities, or large places of worship that often have a campus-like development and generally serve a community purpose. These large uses should complement the surrounding neighborhood while having the flexibility for creative development that also accounts for interactions between institutions and their surroundings. |
Please check back for updates on this section.